Concrete Spray Machine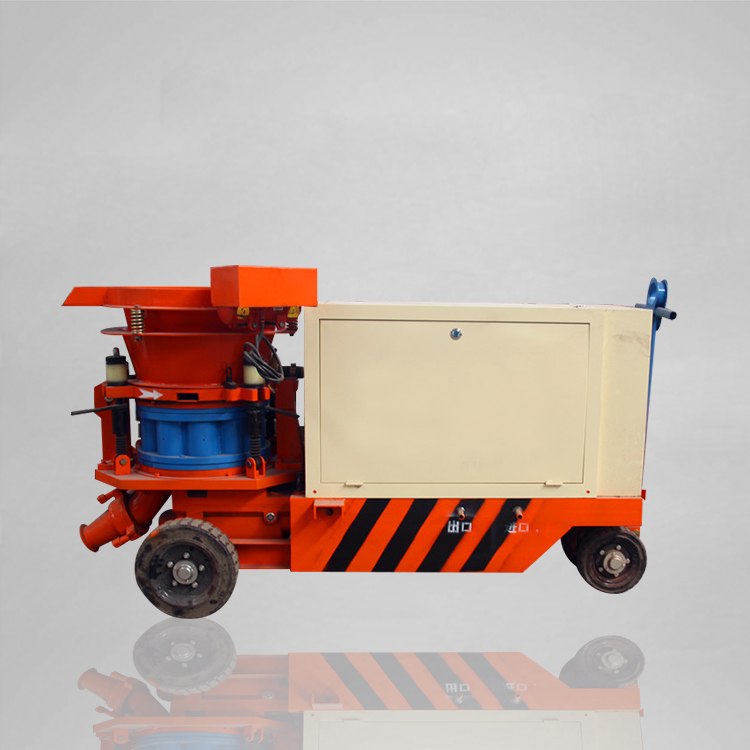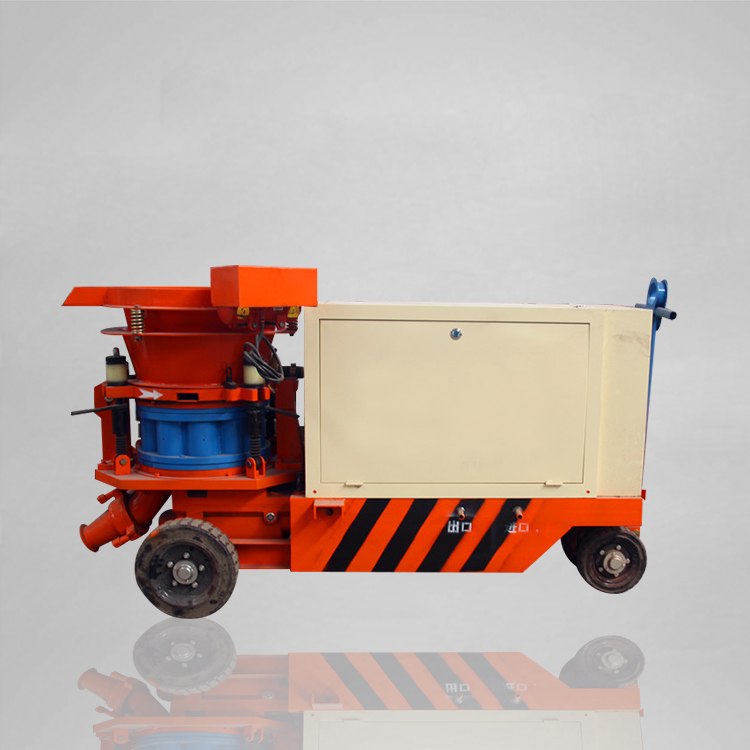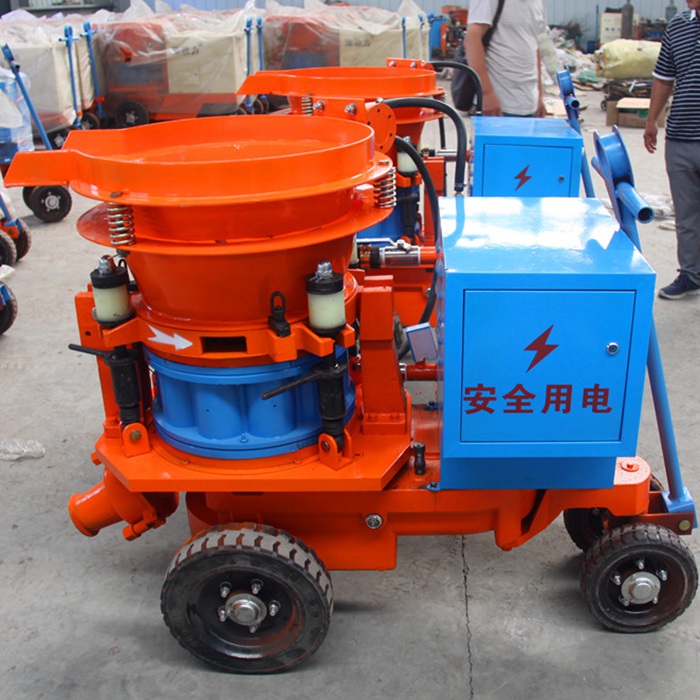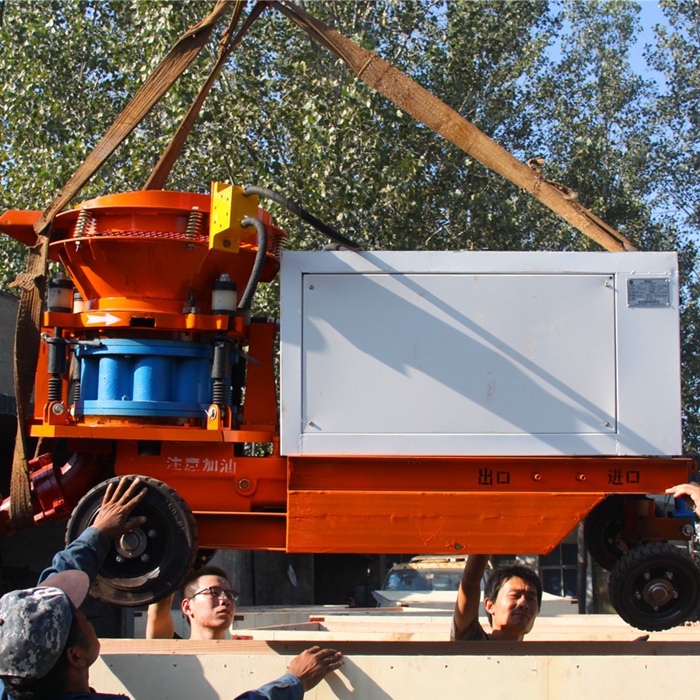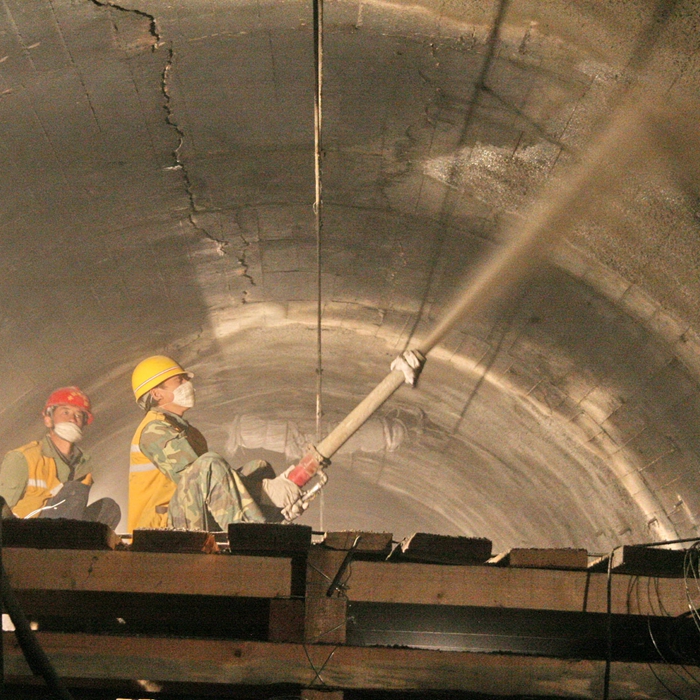 Concrete Spray Machine
Concrete spray machine Introduction:
Concrete spray machine, is a new type and high efficiency spraying machinery, mainly suitable for the section concrete spraying operation of section. It has reasonable structure, humanized design, reliable performance, convenient operation and maintenance, and long service life. Dust-free, low noise and low resilient rate when working.
The working principle of spraying machine:
The equipment uses a rotor pump to deliver the concrete to the nozzle through the pipeline, and the concrete is sprayed to the wall of the sprayed tunnel by the compressed air along with the accelerator agent.
Application:
1.Widely used in engineering construction, mines, tunnels, culverts, subway, hydropower projects, underground projects and coal bog mine roadway shotcrete construction operations.
2.Spray molding or repair of refractory materials for all kinds of industrial furnaces and kilns and lining.
3.Soil transportation and spraying during all kinds of slope protection and greening construction.
4.This machine can be used for wet spraying, dry spraying and all kinds of fiber spraying.
Two type of concrete spray machine:
Concrete spray machine including dry shotcrete machine and wet shotcrete machine.
Dry shotcrete machine is for dry mixed concrete including cement sand stone,or damp mixed concrete,which needs to add water on nozzle before spraying out.
Wet shotcrete machine is for wet mixed concrete spraying work, which needs to adding quick setting agent on nozzle before spray out.
| | | |
| --- | --- | --- |
| Product | Dry Shotcrete Machine | Wet Shotcrete Machine |
| Equipment flexibility | Small size, easy to move | Bigger size,relatively |
| Resilient rate | High | Low |
| The efficiency of construction | Low | High |
| Construction environment | More dust | Less dust |
| Project | Small | Big |
| Price | Low | High |
Advantages and disadvantage:
Dry shotcrete machine:
Advantages: The equipment is relatively small and flexible, and the price is relatively cheap.
Disadvantages: The quality of shotcrete fluctuates greatly (manually controlled water addition), high resilient rate (large waste), low efficiency of construction and relatively bad construction environment. Dry shotcrete machine is more suitable for small quantity engineering.
Wet shotcrete machine:
Advantages: The quality of shotcrete is stable, high efficiency of construction and low resilient rate.
Disadvantages: Equipment investment is relatively large. Wet shotcrete is more suitable for large quantity engineering.
Three different power type of concrete spray machine:
Electric power
Diesel power
Pneumatic power
Usage:
The dry shotcrete method involves placing the dry ingredients into a hopper and then conveying them pneumatically through a hose to the nozzle. The nozzleman controls the addition of water at the nozzle. The water and the dry mixture is not completely mixed, but is completed as the mixture hits the receiving surface. This requires a skilled nozzleman, especially in the case of thick or heavily reinforced sections. Advantages of the dry mix process are that the water content can be adjusted instantaneously by the nozzleman, allowing more effective placement in overhead and vertical applications without using accelerators. The dry mix process is useful in repair applications when it is necessary to stop frequently, as the dry material is easily discharged from the hose.
The wet shotcrete involves pumping of a previously prepared concrete, typically ready-mixed concrete, to the nozzle. Compressed air is introduced at the nozzle to impel the mixture onto the receiving surface. The wet-process procedure generally produces less resilient, waste (when material falls to the floor), and dust compared to the dry-mix process. The greatest advantage of the wet-mix process is all the ingredients are mixed with the water and additives required, and also larger volumes can be placed in less time than the dry process.
Wet concrete spray machine:
The so-called wet spray is relative to dry spray and tidal spray. After the mixed concrete is transported from the wet spray machine to the spray slurry, accelerating agent and a high-pressure wind are added at the spray gun so as to achieve the spraying operation of the concrete. Wet spraying has the advantages of good working environment, stable concrete quality, small rebound and high production efficiency. At present, in many developed areas abroad, wet shotcrete has been in the dominant position of shotcrete construction. In China, the development is faster and faster in recent years. Wet spraying process requires high performance of mechanical equipment. It is generally composed of concrete conveying pump, admixture conveying pump, air compressor and corresponding metering equipment.
Wet spray technology is also very strict for concrete requirements, not only to meet the design requirements of strength, durability and other requirements, but also to meet the requirements of pipeline transportation, that is to say, it can be pumped well. Pumpability means that the concrete mixture can pass through the pipe smoothly, with little friction resistance, no segregation, no clogging and good viscoplasticity. Therefore, not all kinds of concrete can be sprayed, and concrete with poor pumpability can cause wet shotcrete failure and seriously affect wet shotcrete construction.